I started the HSO when the David Byrne '08-09 tour ended. As is inevitable when doing a long tour, whatever music skills you're not using tend to atrophy - so when I got back into the woodshed after the tour, I found myself practicing a lot of Jazz Big Band drumming vocabulary; mainly because it's technically challenging, not because I expected to get any gigs using it.
On a whim, I contacted my old friend Tim Ouimette, a great arranger who has a whole book of 6 horn arrangements, and I booked a gig at a French Restaurant around the corner.
Without going into detail, the gig was pretty much a disaster - pouring rain. cancellations, etc.
Not having done it in years, my distaste for hustling club gigs came flooding back.
Around the same time, a singing tenant in my Harlem townhouse said she wanted to do some casual gigs in her open loft apartment. She was thinking about a quartet, but I said, "screw it. If we're gonna do it let's REALLY do it and make it a big band", so we did.
It was an instant hit. The first gig we had about 50 people and 14 musicians (in 800 sq feet!). It was hot and drunk and everyone flipped on how cool it was.
We started doing it every other week, and by gig 4 or 5 we were getting almost 200 rsvps, accepting about 85, and having lines down the block - it was a little out of hand. We tried moving it to a couple of other private locations, but the vibe just wasn't the same.
<pause> for an 8 month Europe tour with Chimene Badi, march-december 2010...

When I got back, the singing tenant had moved, but I had another apartment vacant on the top floor of my house, so we did a batch of speakeasies up there - it wasn't as good a space, but the band was starting to become exactly what I had set out to create - something like Count Basie's band with Ray Charles singing and Art Blakey on drums.
That apartment eventually got rented and I was tired of the wear and tear on me and the house. We got lucky in finding a home in a cool cave-like room under St George's church in Gramercy Park.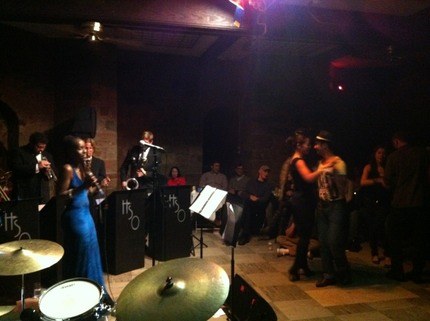 Meanwhile, some momentum had gathered and a few things started to happen without me having to make them. A nice record date for the band (which ended up not really being the band but that's another story); an outdoor festival-type gig; a couple of corporate gigs and private parties threatened but none booked - the economy being mostly to blame.
The audience continued to grow - by summer 2011 we were doing it once a month or less, which was more manageable, but it was still an incredibly big job running the thing.
Realizing that one of the things kicking my ass was having to get 14 good musicians who were available for a split-of-the-door gig, I decided to make the band smaller and guarantee them a minimum amount of bread.
I cut the horn section from 6 to 4, split the repertoire and vocalists in 2, and wrote a whole bunch of new charts (months and months of work).
Now the repertoire was 2 distinct styles - souljaz (Ray Charles, Nancy Wilson, Aretha's jazzier period, Louis Jordan); and a packratty affair (Sinatra, Dean, Sammy, Keely Smith, June Christy, Louis Prima) each one to be presented separately on alternating shows.
The first one was a big success - I wrote a whole storyline in song and it really worked. I wanted to recreate what it might have been like to go to a Vegas niteclub in the late 50's. I think I made $300 after paying everyone.
but again, the logistics were killing me - I had taken the music in a direction which relied heavily on certain personnel, and them being busy adults and successful freelance musicians, they sometimes cancelled. I found myself having to break in new singers days before a gig with 50 tickets sold, brutal.
This is a recurring problem of mine - trying to build something high level in NYC with no financial backing - almost impossible. the level of talent I want to work with is ALWAYS busy, and the people who are available all the time are,... well, you know. And no matter what anyone thinks or says to the contrary, great ensemble creative projects require rehearsal and frequent performing. Non-rehearsed all-star bands almost always suck.


One night on the way home from a frustrating show (low attendance, sloppy playing), I made a realization - this has become my central creative focus, the thing I'm spending the most time and energy on, and it's a completely retro thing. What the hell am I thinking?!?!?
We were never a copy band in the cheesy way (in my view, copy bands are pointless, no matter what music they're copying), but we were playing music from decades ago, with very similar arrangements and grooves; which is anti everything else I've done and said in the last several years of my musical life.
So, I decided to change it all around again. 
(I also have to give credit to Miles Davis - I happened to stumble on an interview and was reminded of why he was such an iconoclastic genius.)

I found a little bar to play at once a week, axed the horn section completely (for the moment), and wrote some very loose arrangements of standard songs of ALL eras.
Many of these were mashups - where 2 songs occur at the same time, whether they have the same harmonic structure or not.
We also adopted a handful of different ideas. Less than mission statements, they're guidelines that we follow - sometimes temporarily, sometimes for a night, sometimes permanently.
if you're instincts tell you to do something, do the opposite.
don't play anything pedestrian.
consonant harmony and melody are unimportant. if you don't like the chords to a song, don't play them - play something else.
if you can't think of something interesting to play, or you're about to play something you don't like, just stop and wait til something else happens.
don't play that stupid keyboard shit. I fucking hate it (this said to an actual keyboard player who was sitting in. I felt like an asshole for saying it, but he was good spirited about it).
The new music has been unbelievably refreshing and fun. Sometimes it's cacaphony, and sometimes it's heartbreakingly beautiful, and everything inbetween. it's almost always funky. (I don't mean funky like a james brown record, allthough that does happen. I simply mean rhythmically compelling).
The next thing is to add the horn section back into the mix, which will be a challenge since we don't follow song forms, don't always play the same chords or  key, and often grind to a halt or take off like a jack-rabbit right in the middle of something.
But I'll figure it out....
Stay tuned - oh and so as to not completely cut off my nose to spite my face, The HSO is still available to play any kind of event, and we still have the retro repertoire at our fingertips, and we LOVE to play it. it's just not ALL that we want to play. We're available in multiple configurations, from trio up to the full big band with 4 singers.
If you want to go to the hso website for more info about bookings, configurations and such, click here